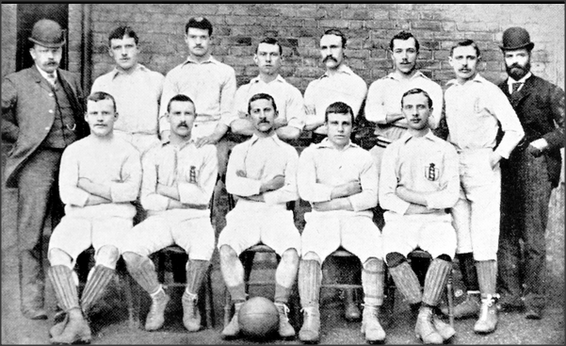 Blackburn Rovers 1891: Back: Tom Brandon, Rowland Pennington, John Barton, Jack Southworth, George Dewar, Jimmy Forrest; Front:Joe Lofthouse, Nat Walton, John Forbes, Coombe Hall, Billy Townley.
In

the 1870s and early 1880s bulk and muscle had remained a considerable factor when appraising the qualities of football XIs. Accounts of the first international draw attention to the size advantage that England enjoyed, and the early 'inter class' matches such as Darwen v Old Etonians also drew attention to the physical superiority of the more privileged classes. 
Until the introduction of professionalism (legally 1885 but in real terms c. 1879) working class players would have been seen as being at a disadvantage due to both long term ( the effects of poor diet and sanitation) and more immediate (50 hour working weeks) factors.
The advent of professionalism led to sinecure jobs and the evolution of training and physical preparation., 
The following , taken from Hansard, are the words of  William Coddington MP , debating the 
Factories and  Workshops Bill (18.06.91). Mr Coddington was Member of Parliament for Blackburn from 1880-1906. 
Before the Committee, in support of the statement that the physique of the operative classes was not to be despised, I quoted the fact that a celebrated Lancashire Football Club, the Blackburn Rovers, had won the Association Cup five times, and another Blackburn Club had won it once. I understand that the Member for Poplar, in the early part of this Debate, referred to what I had said on that point, and I believe he quoted from this very paper certain figures respecting the players. I have reason to know that those figures are inaccurate. To show that I was right in my assertion I may say that the Rovers team in 1884 contained three operatives and four sons of operatives; in 1885 it contained two operatives and four sons of operatives; in 1886 two operatives and one son of an operative; in 1890 two operatives and one son of an operative. It is quite clear that the number of operatives in that celebrated team are not so many now as they were several years ago, but that is due to the fact that football has become much more a professional game than it was a few years ago. It is a great misfortune for the town in which I live and for all the other towns which try to emulate each other in this noble game. A very fair proportion of the players in the old times, however, were operatives. The Blackburn Olympic team when it won the Association Cup in 1883 contained five operatives and one son of an operative. These facts prove, at all events, that the physique of the operative classes is not so bad as represented by some people.
Interestingly, even when professionalism had been legal for 6 years, here is how the Blackburn Players of 1891 described themselves in that year's census: