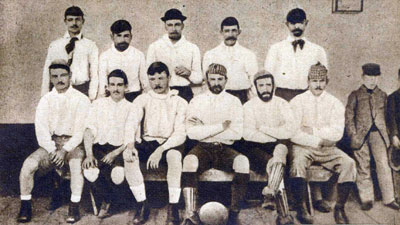 Lobos Athletic Club 1892


Here is a link to the article Irish Association Football in Argentina by Víctor Raffo. 
The influence of Irish settlers on the development of football in Argentina, particularly the Lobos Athletic and Club Atlético Porteño is examined. Lobos A.C were important in the development of Alumni A.C.
Lobos were also the first Argentine side to play abroad: In 1899 they traveled to Montevideo, beating  Albión (

2-1

) and Peñarol (2-0) before a revolution forced their departure aboard a battleship!